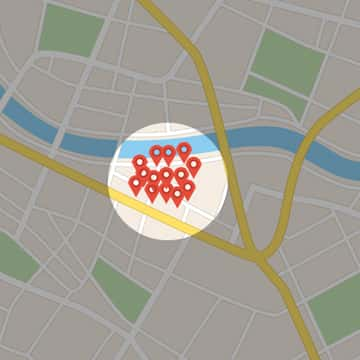 Before the Internet, TV was the tool with the most reach for marketers.  Remember during that broadcast of of Friends (Ross & Rachel, OMG!), marketers could buy commericals nationally OR locally in various markets.  
This type of local media buy was an efficient way to reach the geo-segment of the audience near a specific local business OR a regional/national one that needed growth in a certain DMA.
Fast forward, to 2015 and this was what we know today as Geo-Targeting and Geo-Fencing.
Tracon's marketing experts and our relationship with major publishers and ad networks, enable us to give clients QUALITY reach on digital platforms down to 2 mile radii.  What does that mean in english?
Get your marketing message displayed on apps and mobile websites around your congressional district.
Push your advertising to phones in that office building across the street from your store during lunch time.
Hit the stadium mobile users leading up to the big game.
If you have an address, building, city or zip code – we can reach the mobile web users there.  Tracon Geo-Fence style!